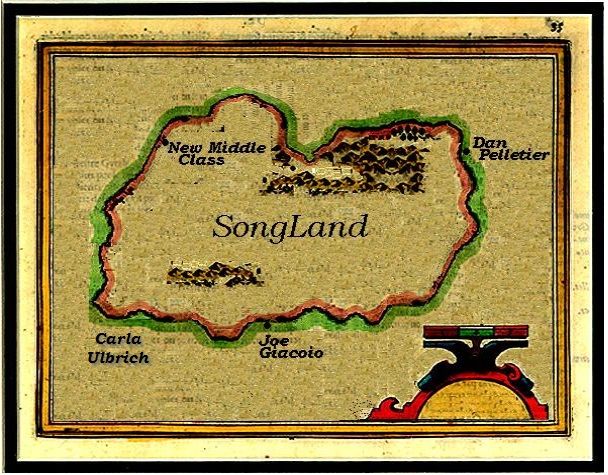 Joe Giacoio's writing has been described as "somehow simultaneously quirky and classic," and touches upon topics that range from debating the existence of God to the existence of Elvis. An award-winning guitarist, his "two-handed" style draws from influences such as Michael Hedges and Preston Reed. Joe twice hosted the Guitar Styles workshop Falcon Ridge Folk Festival and appears on Fast Folk Musical Magazine (FF#805) and a New Jersey songwriters' compilation, "Exit 135." He has three albums on Romantic Devil Records: Superman's Midlife Crisis, I Sing the Body Acoustic and I Love Hamburgers.  
New Middle Class is Barbara Borok (vocal) and Mike Borok (guitar/vocal).  Their award-winning songs have been played on over 50 radio stations worldwide.  They sing about relationships and current events gone awry, the origin of the universe, life, death and dessert.    "The music of New Middle Class is emotionally and intellectually captivating. The songs sparkle with wit, and the melodies are downright addictive."  Their latest album is House of Love. 
Dan Pelletier is a piano playing singer/songwriter who has won multiple performing songwriter awards.  His songs often feature a twist ending, or are filled with surprises from beginning to end. His songs seek first to entertain and delight, and he fills his performances with wit, humor, passion, and insight.  He has two CDs, Mr. Sunshine (1999) and Wild Heart Rodeo (2004), on Hudson Valley Records, and his most recent album is My Freakin' Heart.   
Carla Ulbrich is a comical singer-songwriter and guitarist from Clemson, South Carolina and currently living in New Jersey. [Insert your own punch line here.] Carla is primarily known for her humorous songs about such topics as wedgies, Waffle House, Klingons, and how rich she would be if she had the copyright on the 'F' Word.  Something of a mix between Phoebe and Jeff Foxworthy, she cites her biggest musical influences as Sesame Street, camp songs, and commercial jingles for beer and breakfast cereal. The Professional Smart Aleck has toured all over the US and England, and has appeared on ABC, USA Network, the BBC, Dr. Demento, Sirius XM Radio, and The Bob and Sherrie Show and venues such as the Falcon Ridge and Kerrville Folk Festivals, Club Med, and the Bluebird Cafe.  Her latest release is Inside Jokes.  
No one knows the identity of the original inhabitants of SongLand - they mysteriously vanished millions of years ago on a Tuesday afternoon, leaving only the fossilized remnants of crude musical instruments. Current theory holds that they were driven out by the fur-hunting Pelletier clan, who shaved the mammoths and left them to freeze during the Dry Ice Age. 
SongLand was re-discovered in the 15th century by Cristobal Giacoio, who had been expelled from his native Bologna for claiming that the world was an oblate spheroid. Unfortunately, both of his ships were lost on the voyage home when they sailed off the edge of the Earth. 
When the dreaded Black Humor swept through SongLand, victims were unable to keep food down and delirious with laughter. Strangest of all, they were covered in mysterious black boils that hissed musical tones when they were popped and gave the illness its name: "Der Schwartze Volksleid."  Nightingale Ulbrich, a None in the Order of the Swinging Impatient, sang rounds at night by lump light but only made things worse and was burned at the snake for killing people softly with parodies of the latest hit psalms. 
Yet somehow SongLand survived and prospered as a humble agrarian society, until the country was torn by a bloody Revolution, when Boris and Natasha Borok attempted to create a New Middle Class, forcing the populace to sing atonal folk songs and drink only vodka derived from organically grown potatoes. 
Today the Shower Curtain has been drawn aside, and a bold new generation of singer/songwriters has emerged, blinking, into the light of the vibrant contemporary acoustic music scene.